12-night Australia & New Zealand Cruise
Cruise Line:
Holland America Line
Ship:
Noordam
Destination:
Sydney/Auckland
Departure Date:
2/10/2024
Length:
12
Offer ID:
1462926
The Signature Collection – Exclusive Amenities
The Signature Collection Sailings offer Exceptional Value and Exclusive Amenities.
$50 per Couple Shipboard Credit*
Bottle of wine
*Amenities may not be combinable with all fares shown. Additional restrictions may apply.
Book Have It All Fares for Shore Excursion Credit, Drink Package, Specialty Dining, and Wi-Fi Package for 1st/2nd Guest

Please contact your travel advisor for more information.*
*Promotion is subject to availability, may not be combinable with certain fares or other amenity offers, is capacity controlled and may be withdrawn at any time. Other restrictions apply.
READY TO PLAN YOUR SHORE EXCURSIONS?
To view our top picks, please click here.
Itinerary
Destination
Arrival
Departure
Sydney
2/10/2024
2/10/2024 6:30:00 PM
Sydney

Soak up Sydney's gorgeous harbour, seductive outdoor lifestyle and great natural beauty. Kayak under the Sydney Harbour Bridge or wave at the Opera House as you ride a ferry across the harbour to Manly. Learn to surf at Bondi Beach or swim in the calm waters of Coogee. Lose yourself in the cobblestone cul-de-sacs of The Rocks or in the markets, boutiques, cafes and pubs of Paddington. As well as a world-famous harbour and more than 70 sparkling beaches, Sydney offers fabulous food, festivals and 24-7 fun.
Five Sydney Experiences Not to Miss:
1. Explore the historic Rocks

Discover Sydney's colorful convict history in the harbourside quarter where it all began. Just five minutes from Circular Quay, you can hear stories of hangings and hauntings on a ghost tour, wander the weekend markets or climb the span of the Harbour Bridge. In amongst the maze of sandstone lanes and courtyards, you'll find historic workman's cottages and elegant terraces, art galleries, hotels with harbour views and Sydney's oldest pubs. See people spill out of them onto a party on the cobblestone streets when The Rocks celebrates Australia Day on January 26th, Anzac Day on April 25th and New Years Eve.
2. Hit the world-famous harbour

Sail past the Opera House on a chartered yacht or paddle from Rose Bay in a kayak. Take a scenic cruise from Circular Quay or Darling Harbour, past waterfront mansions, national parks and Shark, Clark, Rodd and Goat islands. Tour historic Fort Denison or learn about the life of Sydney's first inhabitants, the Gadigal people, on an Aboriginal cultural cruise. Watch the harbour glitter from the green parklands of the Royal Botanic Gardens, which curves around its edge. Or take in the view from a waterfront restaurant in Mosman, on the northern side of the bridge, or Watsons Bay at South Head. Walk from Rose Bay to Vaucluse or Cremorne Point to Mosman Bay, on just some of the 16 spectacular routes hugging the harbour foreshore.
3. Visit Manly on the ferry

Travel across Sydney Harbour on a ferry to Manly, which sits between beaches of ocean surf and tranquil inner harbour. Wander through native bushland on the scenic Manly to Spit Bridge walk, learn to scuba-dive at Cabbage Tree Bay or ride a bike to Fairy Bower. Picnic at Shelly Beach on the ocean and sail or kayak from Manly Wharf round the harbour. Hire a scooter and do a round trip of northern beaches such as Narrabeen and Palm Beach. Explore the shops, bars and cafes along the bustling pine tree-lined Corso and dine at world-class restaurants with water views.
4. Enjoy café culture and top shopping in Paddington

Meander through the Saturday markets, browse fashion boutiques on bustling Oxford Street or discover the antique shops and art galleries in upmarket Woollahra. Visit the 1840s Victoria Barracks Army base, open to the public once a week, and see restored Victorian terraces on wide, leafy streets. Ride or roller-blade in huge Centennial Park, then stop for coffee and lunch on Oxford St or in the mini-village of Five Ways. Catch a movie at an art-house cinema or leaf through a novel at midnight in one of the huge bookstores. Crawl between the lively, historic pubs. They hum even more after a game at the nearby stadium or a race day, when girls and guys arrive in their crumpled trackside finery.
5. Walk from Bondi to Coogee

Take in breathtaking views of the Pacific Ocean as you walk the winding, sea-sculpted sandstone cliffs between Bondi and Coogee. Swim in the famous Bondi Icebergs rock pool or just watch the swimmers with a sunset cocktail from the restaurant above. See wild waves in Tamarama, nicknamed Glamarama for the beautiful people who lie on its golden sand. From mid-October to November, the stretch from here to Bondi is transformed into an outdoor gallery for the Sculptures by the Sea exhibition. You can surf, picnic on the grass or stop for a coffee at family-friendly Bronte. Or swim, snorkel or scuba dive in Clovelly and tranquil Gordon's Bay. See the graves of poets Henry Lawson, Dorothea Mackellar and aviator Lawrence Hargrave in Waverley Cemetery, on the edge of the cliffs. Finish your tour in the scenic, backpacker haven of Coogee.
Milford Sound
2/13/2024 7:00:00 AM
2/13/2024 8:00:00 AM
Part of the majestic Fjordland National Park, Milford Sound is a spectacular sight not to be missed. Flowing into the Tasman Sea, the Sound is surrounded by towering fjords, lush greenery, icy peaks and thunderous waterfalls. The dazzling blue water is also teeming with wildlife and if you are lucky, you just might catch a glimpse of a frolicking dolphin, seals or the rare Fjordland Crested penguin.
Fjordland National Park
2/13/2024
2/13/2024
Created in 1952, Fjordland is the largest national park in New Zealand, and one of the largest in the world - stretching 143 miles from northeast to southwest, and at its broadest 50 miles across, covering an area of 3,000,000 acres. Fjordland National Park is also the largest area of wilderness in New Zealand. There are only three roads in the park (one with public access), and only a few tracks, although three of the country's Great Walks (the Milford, Routeburn and Kepler tracks) are located within its boundaries. Fjordland remained wild because it is mountainous and extremely rugged. Fiordland is submitted to very high rainfall weather pattern characteristic of the west coast of South Island. Temperatures are mild, at least at low altitude. Forests cover all of Fjordland National Park from valley bottom up to the treeline. Most of these forests are beech. Wildlife includes forest birds, sea birds, marine mammals, among others.
Dunedin (Port Chalmers)
2/14/2024 7:00:00 AM
2/14/2024 5:00:00 PM
Port Chalmers is an attractive historic town and modern container port located on a tiny peninsula seven miles from Dunedin. It features magnificent harbour views, fine 19th century buildings and a thriving artistic community. It was originally founded in 1844 as the port for Dunedin. From here you can also visit Olveston stately home, Otago Peninsula (Larnach Castle and Albatross colony), and the Taieri Gorge Railway.
Napier
2/16/2024 1:00:00 PM
2/16/2024 11:00:00 PM
The twin cities of Napier and Hastings, located within the region of Hawke's Bay on the East Coast of new Zealand's North Island, are quite unique. The area is blessed with a Californian-Mediterranean climate, boasting one of the highest sunshine averages in the country. The area is also dotted with colourful vineyards and orchards, with some of the most fertile farmland you will see.
In 1931 a two and a half minute earthquake destroyed the city of Napier. Rebuilding began almost immediately in the architectural style of the time - Art Deco. Napier is now classed as the newest city in the world, offering a marvellous, world-renown, collection of Art Deco buildings. Among the attractions in the area are the Gannet Colony at Cape Kidnappers, the Hawke's Bay Aquarium, the Spanish Mission and Art Deco architecture, gardens and bush walks.
Gisborne
2/17/2024 8:00:00 AM
2/17/2024 5:00:00 PM
Gisborne is best known as being the first city in the world to greet the sun each day. Located on the sunny East Coast of the North Island, Gisborne has a lot of activities to offer visitors. There are numerous botanical gardens and arboretums to explore. It is also one of New Zealand's largest grape growing regions and there are several wineries that open their doors to tourists. Or charter a fishing boat and try big game fishing – you might be lucky and catch a marlin.
Tauranga
2/18/2024 8:00:00 AM
2/18/2024 11:00:00 PM
Tauranga is the principal city of the Bay of Plenty. Well-planned parks and gardens were left by 19th century missionaries for today's residents and visitors to enjoy. Sprawling along the sweeping bay, Tauranga is a popular summer resort. Visit the mission house and walk around the 1860s campsite of the military, situated on a cliff overlooking the harbor. Other attractions include the Waitomo Caves, a vast underground network of water-sculpted, cathedral-like limestone grottoes, big-game fishing and scuba diving, and spectacular flightseeing excursions over White Island, New Zealand's most active volcano. The area of the Bay of Plenty is blessed with a good climate and fine beaches. Other sights include Monmouth Redoubt, The Strand, and Mount Maunganui.
White Island
2/19/2024
2/19/2024
White Island lies off New Zealand's Bay of Plenty coastline. This active volcano and private scenic reserve is accessible by boat and helicopter. It is unique in visitors to the island can walk right inside its main crater just above sea level with a minimum physical effort and without undue risk to experience first hand nature's immense power as gas and steam burst up from far below the Earth's crust. It is like walking on an active volcanic moonscape with no plants or vegetation inside the crater. On the outer slopes of the island are large colonies of the majestic gannet. The island is closely monitored by New Zealand scientists, but nevertheless being a volcano the Island is not without its hazards. Licensed operators take visitors to the island and provide hard hats, masks and the supervision necessary when venturing this close to the breath and pulse of the earth.
Auckland
2/22/2024 7:00:00 AM
2/22/2024
Auckland is regularly voted one of the best lifestyle cities in the world, with the cosmopolitan city centre complemented by great escapes within half an hour of downtown. Indulge in Auckland's shopping, nightlife and unrivalled cuisine and experience some of the many attractions and adventure activities on offer. There is never a shortage of things to do in the City of Sails. Sights to see include Auckland Art Gallery, Auckland Zoo, and Museum of Transport and Technology.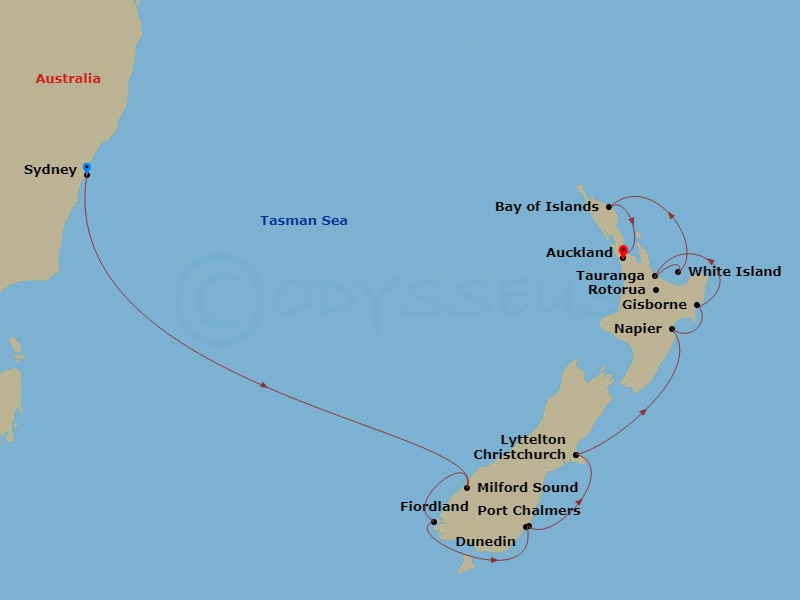 Rates are cruise only, per person, based on double occupancy. Taxes, Fees and Port Expenses of $355 additional for all guests. Fuel surcharges may apply. Please ask your travel counselor for details. Rates are subject to availability and may change without notice. Restrictions may apply.
Departure Date:
2/10/2024
Cruise Inclusions:
12-night Cruise
Meals
Entertainment
Available Addons:
Pre or post cruise hotel stay.
Optional roundtrip airfare.
Optional shore excursions.
Remarks:
Prices are per person, based on double occupancy. Airfare, transfers, Taxes, Fees and Port Expenses additional.
All fares are quoted in US Dollars.
All prices per person and in USD unless otherwise stated.
Offer ID:
1462926

Reference this number when contacting our agency so we may better serve you. Also keeping this number handy will allow you to locate this document again quickly.
Information and pricing is subject to change without notice. While we do our very best to ensure that information and pricing appearing in this website is complete and accurate, we cannot be responsible for incomplete and inaccurate representations, which may or may not be under our control. In the event of a pricing error, misrepresentation or omission, we reserve the right to adjust the pricing or make any other corrections.
Company Info
Great Escape Travel Company
1301 12th Ave So.
Great Falls, MT 59405
406-727-6022
800-727-6022